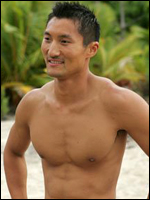 He dominated the physical challenges, found the hidden immunity idol, and engineered a strategic tribal alliance to walk away with a million bucks. After going legit and taking some time to work a desk job on Capitol Hill,
Survivor: Cook Islands
winner Yul Kwon is returning to television.
But he won't be coming back to reality television. Well, not quite reality TV as we know it. Yul, who has been working as deputy chief in the Federal Communications Commission's consumer bureau for more than year, will host the upcoming PBS miniseries
America Revealed
:
Reality TV star leaves FCC in return to small screen
.
About "America Revealed," per a PBS release: "Using aerial footage, high-definition video and real-time satellite data, this new miniseries traces the movements and communications that miraculously come together to manufacture goods, transport people and materials, grow tons of food and power our increasingly tech-savvy nation. Produced by award-winning Lion Television, the series is slated to air Fall 2011 on PBS."
No doubt, Yul is a smart guy, but his talents were being wasted toiling away in government bureaucracy. With abs like that -- yeah, you remember -- brother should be on TV! Though I can't imagine there will be many opportunities for Yul to go shirtless on PBS.