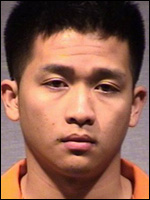 Unbelievable. This week in Texas, 24-year-old Thai-An Huu Nguyen pleaded guilty to three charges of aggravated assault and three charges of deadly conduct after admitting to targeting and shooting at motorists because they were Asian or Hispanic:
Sniper pleads guilty on day of trial after saying he deliberately targeted Asians, Hispanics
.
Nguyen shot at motorists in Richardson, Garland, Plano and Mesquite over three days in 2008. Fortunately, he wasn't a very good shot, and missed most of the time, but two men were shot, and two children narrowly escaped injury. The guy apparently had a pretty big chip on his shoulder:
Nguyen confessed to police that his spree was motivated by altercations he'd had with people who were Hispanic and Asian in the months before the shootings, although details have not been reported.

State District Judge Rick Magnis sentenced Nguyen to 20 years for each aggravated assault case and 10 years for each deadly conduct charge. Those are the maximum sentences for those charges. He will serve those sentences consecutively, but not until after serving sentences for two other charges where the judge revoked his probation Wednesday.

The judge revoked his probation on charges from 2006 of failure to stop and render aid, and assault. The judge sentenced him to five years for failing to stop and render aid in a crash that left a teenager with head trauma, which will be served concurrently with a one-year sentence for assault during the robbery of a woman at gunpoint.

Police filed charges as hate crimes. But prosecutors did not pursue the cases as hate crimes.
I'm confused about that last part -- Nguyen admitted that he specifically targeted Asians and Hispanics. But the judge apparently threw out the confession, so the prosecutors didn't have anything to support the hate crime allegation. Needless to say, there's something seriously wrong with this guy. More here:
Trial Comes to Abrupt End for Random Street Shooter
.