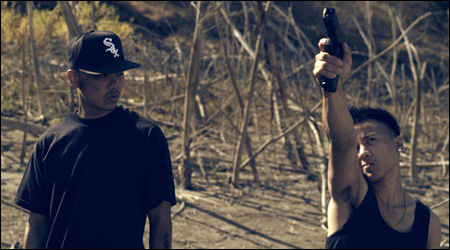 This is the official
trailer
for the indie gangster drama
Bang Bang
, directed by Byron Chan and starring Thai Viet G and David Huynh. I mentioned this project over a year ago when it was still looking for actors, but the film's finally done, and just about ready for the world. Take a look:
Looks good. Here's the story:
Justin is a troubled teen looking for a way out of the gang life. His best friend Charlie is a rich Taiwanese kid who lives in the nice part of town. Justin runs away from home after a fight with his Mom and takes refuge at Charlie's house while Charlie's parents are away on a prolonged business trip.

The murder of a fellow gang member avalanches into a full blown war with a rival gang. Caught in the midst of teenage angst, gang life, and alienation, the two friends find themselves heading down two different paths of life.
The movie is one of those do-it-yourself, entirely self-funded productions, and with the exception of three actors, everyone else in
Bang Bang
is a first-time non-professional actor. The intent, I'm told, is to give the film a certain gritty authenticity.
Bang Bang
should be hitting film festivals starting this spring. For more information about the movie, head over to the
Bang Bang
website
here
.