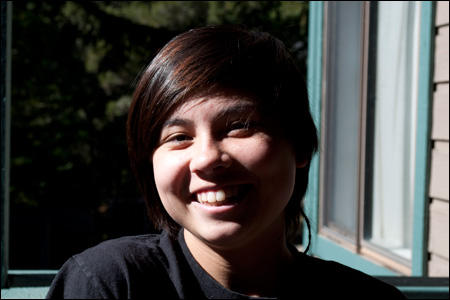 Hey, everybody. Time for another
Angry Reader of the Week
, spotlighting you, the very special readers of this website. Over the years, I've been able to connect with a lot of cool folks, and this is a way of showing some appreciation and attention to the people who help make this blog what it is. This week's Angry Reader is
Anna Nelson
, plucked from the audience during my recent talk at UC Santa Cruz.
Who are you?
Anna Nelson
What are you?
A human, Hapa (half Chinese), a college student, a sci-fi nerd, a painter, a student organizer/activist...
Where are you?
UC Santa Cruz!
Where are you from?
A coastal town that is a few hours north of LA...
What do you do?
I play rugby, spend a lot of time on the internet reading blogs, take art and art history classes, make art, educate myself, ride my bike, and I'm also working with a group of other angry students to create unity between the students-of-color campus organizations, so we can work together to get the word out about the problems at our university.