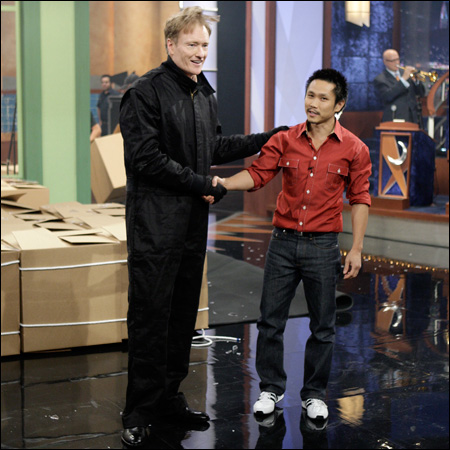 All right, good people. Time for another
Angry Reader of the Week
, spotlighting you, the very special readers of this website. Over the years, I've been able to connect with a lot of cool folks, and this is a way of showing some appreciation and attention to the people who help make this blog what it is. This week's Angry Reader is martial artist and stuntman
Steven Ho
.
Who are you?
Steven Ho
What are you?
Many different things to many different people. A multi-tasking, adrenaline junkie ready to take on any worthwhile project at any time... but leaves my clothes all over the place (my wife answered this question for me).
Where are you?
Los Angeles.
Where are you from?
Born in Indonesia, immigrated to Los Angeles as a child.
What do you do?
When I was in seventh grade I did a report on Leonardo da Vince that shaped my life. I've never had a desire to put my energy into just one thing. On paper, I'm a martial artist, action director, stuntman, and entrepreneur. In actuality, it depends on the day... and sometimes the hour of the day. In the morning, I could be checking a project with our staff contractor (for Plush Home, mine and my wife's design firm and furniture manufacturing company), by lunch I could be rehearsing with an actor for an action film, and making a stunt budget in the evening for Conan, a music video, or commercial. I've never had just one hat to wear, and would probably go bananas if I did. I recently did my first stand-up gig and I think I'm hooked on it.
What are you all about?
Being productive, helping out where I can, avoiding the bullshit, overcoming obstacles, exceeding expectations.
What makes you angry?
People who facebook post complaints about their jobs, white people who greet me with a bad karate move and a "haa-yaa" in an attempt to bond, talented and nice people that are lazy, dirty feet girls, tardiness, racism, injustice, trainers who overuse the word "core," aggressive ignorance, people who whine about the same thing more than twice, dudes who give that awkward angle and overly firm handshake, fake reaches when the bill comes, self-help philosophy talk without action, overcooked and sweet spaghetti, unfluffed pillows, my neighbor's dog who constantly shits on our lawn.
Bonus question: what stunt will you be doing next on Conan and when?
I'm going in for minor shoulder surgery this month, and will hopefully be ready to go in 8-10 weeks after that. I'm taking suggestions for stunt ideas that Conan fans would like to see on my
Facebook page
.
We brought back the Asian Baby after our last Facebook suggestion thread, so I really do read and consider all ideas.