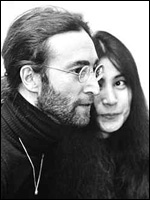 What would you do with a time machine? Thought this movie news was pretty amusing...
Variety
recently reported about a Beatles-themed time travel comedy,
Get Back
, which is set to start production later this year:
Waters wades toward Beatles comedy
.
The script, written by Chris McCoy, is about two diehard Beatles fans who discover a time machine and travel back in history to prevent John Lennon from meeting Yoko Ono, who they blame for the break-up of the Fab Four.
No word on casting, but I imagine they'll need an Asian actress to play Yoko Ono. I think it'll be interesting to see if this movie runs into any legal trouble, since Yoko Ono actually controls the rights to John Lennon's likeness -- and I'm guessing she's probably not cool with this movie's premise.
Poor Yoko. She always gets a bad rap as the crazy weirdo who broke up the Beatles. Then again, when I see
videos like this
, it all kind of makes sense. The crazy weirdo part, I mean.