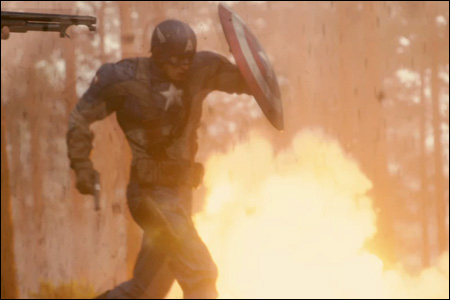 Did you see the Super Bowl commercial giving us the
first glimpse
of footage from the new
Captain America
movie? Marvel Comics' star-spangled, shield-slinging superhero hits the big screen this summer in
Captain American: The First Avenger
. It's kind of fun to see Steve Rogers, played by Chris Evans, and his transformation from short, scrawny recruit into full-fledged Super Soldier.
What I wasn't expecting was to see an Asian face. But wait a minute.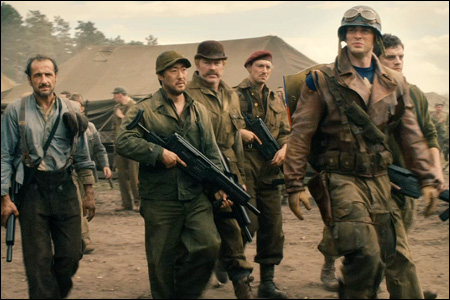 Did I just see an Asian dude hanging out with Captain America's posse? Indeed. That's
Kenneth Choi
as Jim Morita, one of the Howling Commandos -- America's elite special military unit fighting in World War II... according to Marvel Comics. I'm not familiar with the background of this character, here's his short
bio
according to IMDb:
Jim Morita was an American-born man of Japanese ancestry (Nisei) who joined the armed forces during World War II and became a ranger. He was sent to Able Company to serve in a squad of Nisei rangers under the command of Captain Samuel Sawyer, but arrived on the base days before the rest of his squad. Wild-Man Wilson and another soldier picked on him for being Japanese, and when they got rough he used judo to fight back. Sgt. Nick Fury sprang to Jim's aid and helped drive them away.
Seriously. Did not expect to see even a little bit of color (outside the
Red
Skull) in the Captain America movie. I imagine it's not a really big part, but the inclusion of a Nisei soldier -- even in a fictional, super-serum-ized version of World War II -- is a nice detail. And hey, he made into the trailer. (Watch it
here
.)
Captain America: The First Avenger
opens in theaters on July 22. (Thanks, Min.)