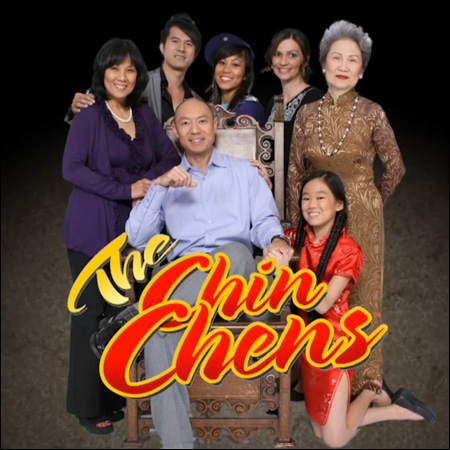 A little while back, I wrote about an
The Chin Chens
, an Asian American-themed sitcom in the works from an Atlanta-based production company.
The show, which started production last fall, promised hilarity in the form of the
Cosby
-esque members of a Chinese/Vietnamese American family who own a successful chain of nail salons and Chinese restaurants. I give you the recently released
teaser trailer
:
Here's the official description:
The Chin Chens is a television show that details the life of a loving but unique family. They are unique because the family members come from different ethnic backgrounds. The father is Chinese and the mother is Vietnamese. THey have three children, two of whom have chosen to "downplay" their own cultural identity in exchange for the American way of life. Like it or not, the grandmother is doing what she can to get the family back to their cultural roots. However, the inherent cultural difference between the parents makes for a humorous and educational journey in every episode.
Wow. This looks unfortunate. I know -- I'm the guy who's always complaining about the lack of Asian American stories in media and entertainment... but man, when it looks like this, it makes me re-think how badly I want that. I don't even find the material offensive or objectionable.... it's just
not funny
.
I get the fact that they're working with a limited budget, and the cast includes some relatively inexperienced actors. Hell, you have to give the producers some credit for even trying to pull this off. And granted, it's just a three-minute trailer. Maybe the nineteen minutes we didn't see are friggin' hilarious.
But if these are the show's highlights, it looks like bad news. At this point, I can't say I'm looking forward to it. Don't know if/when/where
The Chin Chens
will ultimately be available for viewing. Stay tuned.
UPDATE: Looks like
The Chin Chens
teaser trailer has been pulled and replaced with this
video message
(complete with a not-quite-FM version of "Rocketeer"). Your valuable "feedbacks" was appreciated in what they're calling a "focus study group":
Thank you to all of those who have seen our teaser trailer of "The Chin Chens" and provided valuable feedbacks as part of your participation in our focus study group. We will be releasing our next trailer in the coming week so stay tuned!
Can't wait for that next trailer.