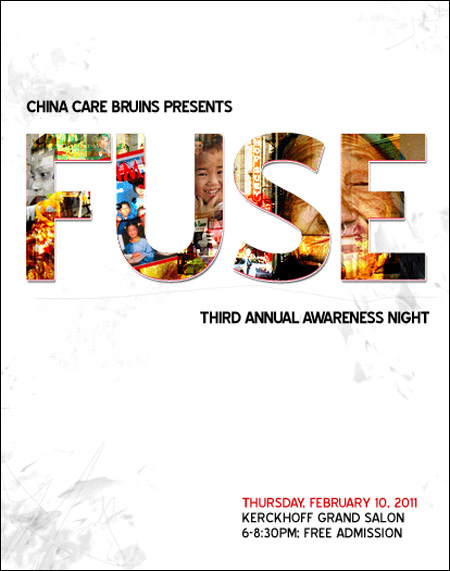 Cool event happening this week in Los Angeles...
China Care Bruins
, a student organization at UCLA dedicated to providing greater opportunities for Chinese adoptees in the United States and orphans in China, invites you to
FUSE: Third Annual Awareness Night
.
The event will feature free musical performances from Jane Lui, Ryan Huang and Dr. Weisberg, and a speaker panel to raise cultural awareness and discussion. It's happening Thursday, February 10 at UCLA's Kerckhoff Grand Salon. Here are some more details:
FUSE: 3rd Annual Awareness Night

Proudly presented by China Care Bruins, with support from the Asian Pacific Coalition

Thursday, February 10, 2011
UCLA Kerckhoff Grand Salon
6:00 - 8:30 PM

Free admission; refreshments will be served.

WITH MUSICAL PERFORMANCES BY

JANE LUI
2008 WINNER OF KOLLABORATION LA
http://janelui.com/

RYAN HUANG
Youtube-recognized vocalist and guitarist
http://www.youtube.com/user/ryanyhuang

DR. WEISBERG + Special Guest
DJ/Producer from SF Bay Area
http://soundcloud.com/drweisberg

WHAT IS FUSE?
This year, our awareness night seeks to address the identity issues faced by all those who encounter a need to reconcile their heritage with an overarching societal atmosphere that may be lacking in representation or acknowledgment. We recognize and uphold the ongoing plight to create a working fusion, and seek to reach out to all those who are undergoing this process with us.
Throughout the event, they'll be trying to raise $2,600 needed for an orphan's surgery in China. So you've got an evening of music, some knowledge, and fundraising for a good cause. To learn more about this cause, and for further information about the event, go to the China Care Bruins website
here
.