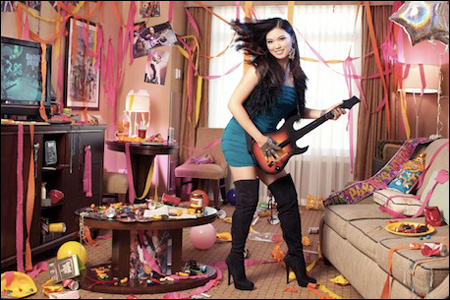 Oh my. This is
Annie Leung
. Not only is she a babe, she holds the female world record for a single track on
Guitar Hero III
, with a score of 789,349 points on the expert level of "Through the Fire and Flames" by the band DragonForce.
Okay, if you don't know what any of that means, that's okay. Just know that this is this fast-fingered UC Berkeley graduate is the girl of every gamer geek's dreams:
Irvine Gamer Gal Sets Guinness World Record in 'Guitar Hero.'
Leung, whose nickname is Ecstacy, grew up in the Bay Area and graduated from UC Berkeley with a degree in environmental economics and policy. She began playing video games as a kid but didn't take the hobby seriously until 2004, when she got hooked on Unreal Tournament.

For the unfamiliar, Guitar Hero has players "strum" and hit chords on a toy guitar, letting them feel like rock stars without having to quit their day jobs and end up in rehab.
But as any serious Tiger Mom knows, you don't hit a score of 789,349 without some mad practice. She apparently practices four to six hours at a time before a competition. More here:
OC woman sets Guitar Hero III world record
.
Oh, and did I mention that she wears a minidress and over-the-knee boots when she plays. Daaaaaaamn. If you want to know more about Guinness World Record holder Annie "Ecstasy" Leung, check out her official website
here
.