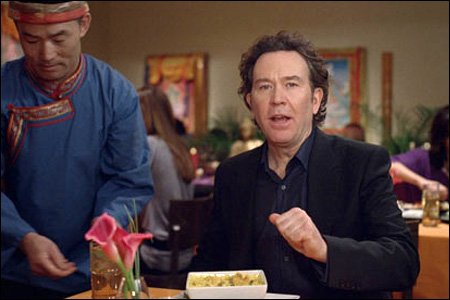 I don't have much to say about that messed up
"Tibet"
Groupon commercial that aired during the Super Bowl, except that it was quite possibly the most tasteless, insensitive spots aired during the broadcast -- and that's saying a lot, considering all the terrible bullshit that viewers had to slog through this evening. (Seriously, did you see any of those Doritos ads?) Here's what you missed:
"The people in Tibet are in trouble"... but hey, who the hell cares -- Groupon is giving you a great deal on some f#$king good-ass grub! Hope that amazing fish curry gives you the runs, Timothy Hutton.
Hooray for exploiting human tragedy in the name of saving a few bucks. The company is already doing
damage control
, making claims about contributing matching donations of up to $100,000 to charities like the
Tibet Fund
.
Groupon's first foray into television advertising, which is actually part of a series of faux-philanthropy spots, is a big fat fail. Of course, in this game any publicity is good publicity, and here we all are on the blogs and Twitters and Facebooks talking up our outrage over the spot. So now what?
UPDATE: Here's the email Groupon is sending out in response to complaints about the Tibet commercial:
Hi _________

Thanks for your email.

We certainly don't mean to offend with our advertisements.

We encourage you to read our CEO's blog about why we ran these ads here: http://www.groupon.com/blog/cities/groupon-super-bowl-ads/

We're proud to raise awareness and funds for organizations who are doing work around these causes. Please go to http://savethemoney.org and you will have the opportunity to donate to any of these causes. Groupon will gladly match your donation.

Additionally, we do occasionally feature other real charities on our site, so if you have any suggestions for us, please let us know here: http://groupon.sponsorships.sgizmo.com

Thanks for your feedback. Let me know if you have any other suggestions or questions.

Regards,

Jon M
support@groupon.com
In other words, we're not sorry, so suck it.