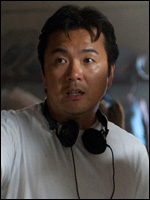 What's this now?
Terminator
... directed by Justin Lin? Word on the street is, Universal Pictures is interested in resurrecting the
Terminator
franchise, and they're apparently looking at director Justin Lin to take the helm:
Universal Interested in Resurrecting TERMINATOR Franchise with Director Justin Lin
.
So that series reboot director McG attempted with 2009's
Terminator Salvation
didn't go over so well with moviegoers, and the franchise was basically left in limbo after ending up in bankruptcy. The rights were eventually snapped up by a hedge fund, and now Universal is looking to get in on the action:
Following the proclamation from the Governator himself, Arnold Schwarzenegger, that he's ready to head back to acting, studios are now interested in resuscitating the Terminator franchise. Apparently, Universal is interested in restarting the blockbuster franchise (yet again). Deadline reports that the studio is looking for a new project for director Justin Lin (Fast Five), and they have their eye on Terminator.

The film franchise has been dormant since McG's lackluster reboot in the form of Terminator: Salvation in 2009. The franchise was left in limbo after ending up in bankruptcy court, where Santa Barbara-based hedge fund Pacificor won the rights, thereby negating any future plans McG had for his trilogy which will now thankfully never see the light of day. It's important to note that Universal hasn't officially made a move on the franchise yet, and Lin isn't guaranteed to direct if they do, but this is what the studio is thinking at this time.
Now, I'm not so certain that we really need another
Terminator
movie. And if they're going to take another stab at this franchise, it better be one hell of a script. But I'm all for our pal Justin Lin getting some more high profile studio jobs. Say what you will about the
Fast and Furious
movies, Justin has delivered the goods.
Granted, this is all pretty much rumor right now, but that's what they're saying.