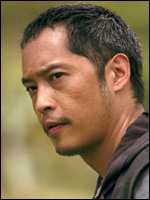 Some TV news... Just read that one of my favorite actors, Ken Leung, last seen as Miles "I Talk To Dead People" Straume on
Lost
, will guest star on an upcoming episode of the CBS drama
The Good Wife
:
Actors from Lost, The Big C to Guest-Star on The Good Wife
.
According to
TV Guide
, Ken will play a man who sues a social networking site for failing to protect his privacy. After he posts an anonymous blog about democracy in China, the government then jails and tortures him. Leung's character is represented by Lockhart, Gardner and Bond.
If I'm not mistaken, this will be Ken's first TV role since
Lost
wrapped last year. It'll be great to see him on the tube again, because he kind of kicks ass. The episode is scheduled to air March 1.
The Good Wife
airs Tuesday nights on CBS.
Oh, by the way, if you just can't get enough of Ken Leung, I highly recommend seeking out the short film
Works of Art
, written by Paul Juhn and directed by Andrew Pang. It's a great little film, and Ken has a small but memorable role as the guy who sets the whole story in motion. Good stuff.