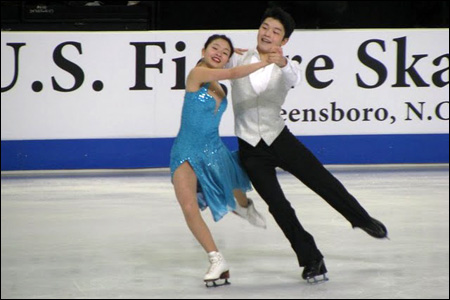 Just wanted to show some love to teen brother-and-sister ice dancing team Maia and Alex Shibutani, who made the senior national level debut last weekend at the U.S. National Figure Skating Championships in Greensboro, North Carolina. They finished second behind Olympians Meryl Davis and Charlie White, with a respectable score of 173.18 points.
In their senior national debut, Maia Shibutani and Alex Shibutani proved that they are ready to compete at this level by winning the silver medals. With the highest technical score of the competition, the 2010 US Junior Champions may threaten Davis and White's dominance sooner than later.

"This whole year since the off season we've been gearing up for this competition, and our goal was to make it beyond nationals and make it into the next two (events)," Alex said after their free dance. "I'm just really proud of ourselves and how we really fought through this week and put out two really good performances. This whole season has been such an amazing thrill for the two of us."

Shibutani and Shibutani skated to music by Charlie Chaplin and Irving Berlin, and took the challenge of ballroom dancing to heart. Each step was reminiscent of something that Fred and Ginger Rogers might have performed had they been ice dancers. Their score of 173.18 points proved that they were junior skaters no more.
More here:
Davis and White win third national title
.16-year-old Maia and 19-year-old Alex were last year's U.S. Junior Champions, and everyone seems to agree their strong showing at Nationals demonstrate they're the closest challengers to Davis and White's dominance. Next stop: World Championships.
I don't follow the sport too closely, but this is cool! For more information on these two, check out this really comprehensive
Maia and Alex Shibutani Fan Page
.