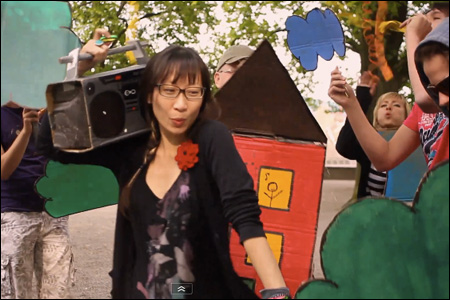 Goodness. All of my favorite musicians have been dropping new videos this week. Check out the official music video for
"Goodnight Company"
by the incomparable Jane Lui. Great song, and a ridiculously cute video, thanks to some awesome homemade cardboard props and Jane's bespectacled charming self. Very fun stuff:
Directed by Steve Ellington, the music video was shot in Zurich(!) and tells quirky little tale: "Getting to know someone often means getting to know the world that surrounds them too. Here, girl introduces boy to her imaginary findings!" Looks like a party, and every party needs a painted cardboard boombox.
Fun fact: Jane and I attended the same junior high... a long, long time ago. I didn't know her back then, but I'm glad I know her now, because she makes beautiful, amazing music. "Goodnight Company" is the title track off of her latest album, which is currently available as a
free
download. To get it, and to learn more about Jane Lui's music, go to her official website
here
.