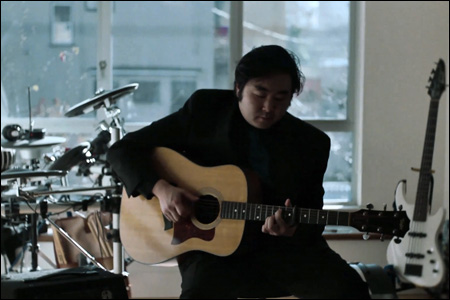 Because it's Valentine's Day... and because this song is amazing. Check out this freshly launched video for
"Surrogate Valentine,"
a sweet signature tune by our pal, Bay Area-based musician Goh Nakamura. I've always been a huge fan of this song (from Goh's first album
Daylight Savings Time
), and the video's just gorgeous. Take a look:
Directed by Richard Wong, the video is actually a prequel of sorts to the upcoming indie film
Surrogate Valentine
, directed by David Boyle and starring Goh, Chadd Stoops and Lynn Chen. That's right, in his feature film acting debut, Goh Nakamura plays a San Francisco musician Goh Nakamura, who goes on a road trip with a TV actor, and mixes it up with an old high school flame.
I've seen the film, and it's quite wonderful. If you're headed to the South By Southwest Film Festival in Austin, you can catch the world premiere of
Surrogate Valentine
next month. It's also the Closing Night film of the San Francisco International Asian American Film Festival. For more information about the movie, go to the
Surrogate Valentine
website
here
. And for more music from Goh Nakamura, check out his website
here
.