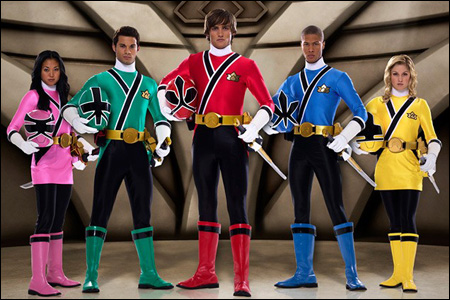 The
Power Rangers
are back! I am actually surprised to learn that this show is still on. But
Power Rangers Samurai
, the latest iteration of the multi-colored monster-fighting heroes -- now apparently in its 18th(!) season -- is back with a new look and new cast. The new show premiered last week on Nickelodeon.
I mention it here because the starring cast includes
Erika Fong
as Mia, The Pink Samurai Ranger. Here's a
video clip
of them doing the morphin' action thing:
Yup. Still looks pretty friggin' terrible. The kids will love it!
It's funny to even mention this, but I do think it's worth noting that the Asian girl in the group is the Pink Ranger. A long way from the ridiculous original season where the multi-ethnic characters were actually color-coded by race. Back in 1993,
Thuy Trang
played Trini, The Yellow Ranger. (Sadly, Trang died in a car accident in 2001. RIP.)
This isn't first season where they've changed things up, and there have been several Asian American cast members (playing non-Yellow Rangers) during the different versions of the show. But I haven't been paying attention. However, this hilarious video explains quite a bit about that first season:
Ah, let's just face it.
Zordon was racist
.