Alleged vandals claim they were angry about U.S. jobs supposedly going overseas.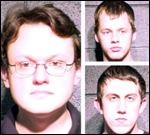 Think of it sort of as a hate crime... against foreign cars!
Last week at the Chicago Auto Show, a trio of suburban dumbasses were arrested for doing about $30,000 damage to seven vehicles because they were angry about U.S. jobs supposedly going overseas.
3 charged in auto show vandalism spree
.
Bryan Kjellman, Richard Data and Edmund Grzeszkiewicz, of Orland Park, Illinois, were each charged with one count of criminal damage to property for allegedly doing thousands of dollars in damage to the interior of the seven 2011 Toyota vehicles. Yeah, that's going to save American jobs:
The three were caught in a blue Toyota Camry, damaging the interior with razor knives and flathead screwdrivers, according to a police report. A security camera caught footage of them inside the car.

Besides the Camry, a RAV4, a Prius, a Land Cruiser, two Tundras and a Lexus ES350 were damaged, the latter having its back seat punctured and a turn indicator broken, according to the report.

The men allegedly told police they were angry about American jobs going overseas.

Hearing about this, I can't help but be reminded about the strong anti-Japanese sentiment that set the stage for the two disgruntled autoworkers to take a baseball bat to Vincent Chin's head. This is that same kind of xenophobic, anti-foreign aggression. Only the guys were taking out their anger on actual automobiles.
Friggin' idiots. While three of the cars they targeted -- the Prius, Lexus and Land Cruiser -- are made in Japan, the others are assembled in the United States or Canada. In fact, 60 percent of Toyotas sold in the U.S. are assembled right here in this country. That's right, fools. American jobs.