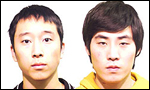 Oh what the hell. In Chicago, two students from Korea have been arrested for allegedly beating and robbing a cab driver early Saturday morning after one of their credit cards was declined:
2 charged with beating cab driver
.
22-year-old Sung Wong Chung and 19-year-old Alexander Choi were ordered held on $125,000 bond each for their assault on Iwowari Wright. They were both charged with felony aggravated robbery and aggravated battery of a taxi driver:
Shortly before 2:30 a.m., Wright stopped at 15th Street and Aberdeen where Chung and Choi, who were passengers of the taxi, requested to be dropped off, she said.

One of the men handed Wright what appeared to be a Chase credit card. But when she called a dispatcher get approval of the charge, the dispatcher told her it had been declined and was possibly fraudulent, Wright said.

At this, the men jumped out of the van and began to flee. Wright took a few minutes to report the skipped fare.

"Dispatch told me to just let it go," said Wright, who drives a white Toyota van for City Service Taxi Association.

But within a moment, she said, the two had returned.

One of the men pulled her out of the van while the other rummaged through the front passenger seat.

"I was screaming, 'Somebody help me! They're going to kill me!'" said Wright, 56.

One of the men grabbed Wright's phone, which she held with a cord around her wrist, and began beating her with it, twirling it around each time he struck her.

On Sunday afternoon, Wright still had a bruise on her right wrist. Her right ankle was also swollen, she said.
The two assailants were found in the stairwell in a nearby building and taken into police custody. Choi is a student at the School of the Art Institute of Chicago, and Chung was identified as a student at another local school. No explanation why these guys decided to beat the crap out of this poor woman. More here:
Two men charged with beating, robbing female cabbie
.