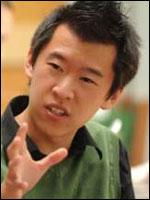 Here is the situation, as I understand it. Last November, Jesse Cheng, the University of California's Governing Board's student regent and fifth-year Asian American studies major at UC Irvine, was arrested for sexual battery:
Jesse Cheng, UC Student Regent, Was Arrested for Allegedly Trying to Rape Female Student in his Apartment Near UCI; DA Didn't File Charges
.
However, the Orange County district attorney's office apparently declined to file charges. This only recently came to light after the alleged victim, a female graduate from UCLA, brought her story to the UC Irvine student newspaper,
New University
:
Student Regent Under Investigation
.
On Nov. 4, 2010, UC Student Regent Jesse Cheng was arrested for sexual battery, according to the Irvine Police Department's adult arrest roster for the month of November. The victim, a UCLA graduate student who has asked to be named as "Laya," reported the attack to the police a few weeks after the incident.

According to the arrest roster, Cheng was arrested on the afternoon of Nov. 4 at 4771 Campus Dr. for sexual battery. IPD's daily log for the arrest confirms that the incident was reported on Oct. 26 and Cheng was arrested and booked the following week in Irvine. However, he is not currently facing criminal charges.

Cheng, a fifth-year Asian American studies major at UC Irvine, is the current UC Student Regent and represents over 200,000 students at the 10 UC campuses throughout California. Here at UCI, Cheng has been actively involved in ASUCI, the Student Fee Advisory Committee and the Asian Pacific Student Association.
The most damning evidence appears to be a series of emails disclosed by the victim, identified as "Laya," in which Cheng repeatedly apologized for sexually assaulting her. The emails were given to the police, Office of Student Conduct and
New University
.
Initial inquiries about why the case was dropped came back kind of murky, and at one point, a spokesman at the district attorney's office even told
New University
they had no record of the case. OCDA eventually explained that the case was dropped because of insufficient evidence:
"The evidence we had is the victim and the man had a prior relationship, that she did not report this for two weeks, and that she had seen him after the alleged incident," Schroeder explained. "Based on all those facts, at this time, there is not sufficient evidence to prove this case beyond a reasonable doubt."

She continued: "Should at any point further evidence be submitted that can get this beyond a reasonable doubt, we are always willing to review the case for a misdemeanor sexual battery charge."
OC Weekly
has an interview with Jesse Cheng about the allegations
here
. I learned about this story a couple of days ago, but had been waiting for more facts to come in (particularly from the district attorney's office) before I posted anything. But none of the information has been helpful or illuminating either way.
At this point, I'm still not willing to make any judgments about this case, though based on all the emails I've received, and comments in these articles, it appears that a lot of people have already chosen their sides. This
online petition
is calling for a more thorough investigation of the allegations. Pressure and publicity will hopefully push the truth to light. No doubt, more on this come...