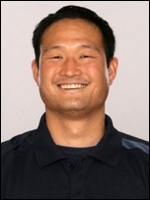 This sucks. Seattle Seahawks assistant coach Rocky Seto recently got hired for the defensive coordinator position at UCLA. Excited about his new job, he basically told everybody he knew -- including reporters -- via Facebook, Twitter, texts, emails. Hey, he was pumped, and he wanted to get the word out.
The only problem: the official announcement about Seto's hiring hadn't been made yet. And when early word reached the wrong people, there was a massive backlash on UCLA fan sites. Just how bad was backlash? UCLA ended up rescinding the offer:
Seahawks assistant loses college job after online protest
.
The early dissemination of the news had an unintended consequence. A massive fan backlash to Seto's hiring, ignited by the coach's preemptive self-congratulations, caused UCLA to rescind the offer.

A college newspaper reported last week that Seto sent a text message to a reporter saying that he had accepted the coordinator position at UCLA. It was a return to college for Seto, who played at USC and later served as defensive coordinator under Pete Carroll before following the coach to Seattle when he took the head coaching job with the Seahawks.

UCLA fan sites exploded with the news and immediately began a "Veto Seto" campaign aimed toward the school's athletic director.
Unfortunately, the campaign worked. Seto jumped the gun, the fans had their way, and UCLA took back the job offer. It's quite possible that fan backlash would have pushed Seto out of the job either way. But telling everybody and their momma certainly didn't help. Moral of the story: yo coaches, keep your mouth shut. It ain't official until it's official. More here:
Report: UCLA rescinds offer to Seahawks' Rocky Seto
.