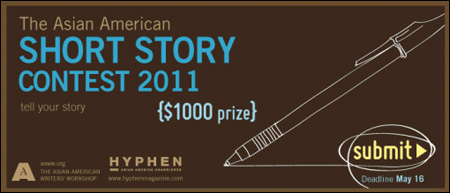 Writers! Time to put pen to parchment and prepare your submissions to
Hyphen
and the Asian American Writers' Workshop's
2011 Asian American Short Story Contest
, a unique nationwide competition highlighting the amazing literary talent coming out of our communities. I know there are some kickass writers out there reading this, so read on for more details:
2011 Asian American Short Story Contest

Contest begins: March 1, 2011
Contest deadline: May 16, 2011

Hyphen and The Asian American Writers' Workshop proudly present the 2011 Asian American Short Story Contest. We're teaming up again to put on this national, pan-Asian American writing competition -- the only one of its kind.

Grand Prize: $1,000, publication in Hyphen magazine and the honor of short story of the year.

Now in its fourth year, the 2011 Asian American Short Story Contest will name eight finalists, one runner up and one grand prize winner (cash prizes: $350 and $1,000, respectively). The winner will have his or her story published in an upcoming issue of Hyphen.
Judges for this year's contest include prominent writers Yiyun Li and Porochista Khakpour. The deadline to submit your short story is May 16, so get your ass in writerly position and show them what you've got. For further information, including prizes, qualifications, guidelines and submission instructions, go to the
Hyphen
website
here
.