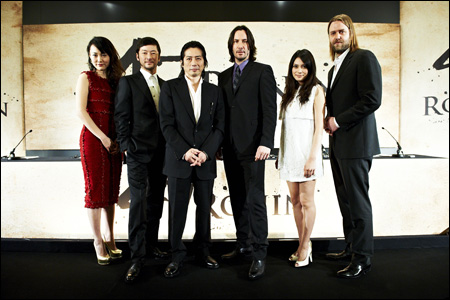 An update on Universal Pictures' movie adaptation of
47 Ronin
, starring Keanu Reeves and based on the famous 18th century Japanese samurai legend... According to
Variety
, Japanese actors Hiroyuki Sanada, Kou Shibasaki, Tadanobu Asano and Rinko Kikuchi have joined the cast. Awesome.
The movie is inspired by the true story of the legendary 47 Ronin, a shamed band of samurai who embark on a quest to avenge the death of their master.
But wait a minute. You're telling me you're making this epic, big-budget Hollywood adaptation of a classic Japanese tale, and you've cast a group of some really
amazing
Japanese actors, but in the middle of it all, you've got... Keanu Reeves?
Whoa.
Okay, so we all know that Mr. Reeves is indeed of some kind of Asian descent (according to Wikipedia, his father is "a Hawaiian-born American of English, Irish, Portuguese, Hawaiian, and Chinese descent")... but how is this going to work?
Is this movie going to be in English? Awkward. You can dress it up all you want with insane Japaneseness, but in the end this is still a movie starring Keanu Reeves. Please just tell me he won't be inexplicably doing a Japanese accent. Now, if Keanu goes for performing his role entirely in Japanese... that'll be something.
I'm not saying this is going to be awful... yet. I'm just saying that is going to be one hell of a hard sell. Anyway, by my count, that leaves forty-two more samurai to cast. The film will be directed by Carl Erik Rinsch, and is scheduled for a Thanksgiving 2012 release.