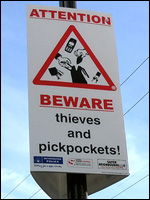 Asians behaving badly... Chinese-hating Robin Hood edition!
This week in New York, a wealthy retired restaurateur was arraigned on grand larceny for an alleged pickpocketing spree last week in Chinatown, in which which robbed Chinese pedestrians... to give to the poor?
Well-heeled Florida retiree is a compulsive Chinatown pickpocket: DA
.
Bizarre. 67-year-old Ha Vasko, a former refugee from Vietnam who apparently owns a $400,000 home in Florida, faces three years in prison -- and possible
hate crime charges
-- for stealing $350 from the purses and pockets of four victims last week. Why did she do it? She apparently hates "the Chinese people."
I hate Chinese people," Ha Vasko, 67 -- herself a one-time war refugee from Vietnam -- allegedly explained to cops when she was busted March 21st, her fourth arrest.

"They sell fake stuff, take the money and send the money back home," Vasko allegedly told cops, according to a confession released today.

"They get benefit cards and they don't contribute anything back. So I take their money and give it to people who need it. I give it to homeless people who need it."

A retired restaurateur, Vasko owns a $400,000 home in Melbourne, Fla., with her retired businessman husband, John.

But on an afternoon in June, she was busted at Canal and Mulberry Streets after allegedly unzipping a woman's fanny pack and lifting $500.

This led to just the first of her four open felony indictments -- an alleged crime spree so energetic and odd, it came to the attention of the Manhattan DA's crime strategies unit, which targets serial offenders

According to prosecutors, each time Vasko travels to Manhattan from Florida for a court date, she walks straight from the courthouse to nearby Chinese neighborhoods, where she's been busted three additional times on pickpocketing charges. She's apparently swiped $900 from seven victims since June. That's one bold thief.
I think it's pretty clear this woman's got issues -- she definitely doesn't need the money. Her lawyer claims she is a diagnosed kleptomaniac with serious mental health problems, including lingering post-traumatic stress from the Vietnam War.
More here:
Pick-pocketing 'Robin Hood' faces three years in jail, hate crime charges for Chinatown theft spree
.