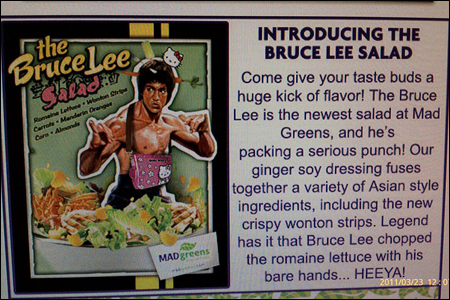 Mad Greens, a restaurant chain in Denver, is promoting their new Bruce Lee-themed "Asian-style" salad. The above image was sent out in a recent email.
I'm going to go out on a limb and guess that Bruce Lee Enterprises was
not
contacted for permission to use Bruce's image. I'm also fairly certain they didn't get an official 'OK' from Sanrio for the use of Hello Kitty.
But hey, if you're going to advertise your new Asian-y food, might as well appropriate the two most recognizable Asian faces in the world. (Thanks, Tommy.)