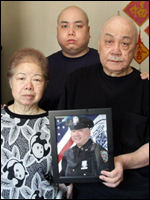 Talk about disrespect. The family of NYPD cop George Wong, who died last week after a two-year battle with gastric cancer, is accusing the city of basically snatching his body from a Manhattan funeral home -- ten minutes before the scheduled wake -- causing Wong's viewing and funeral to be postponed for a day.
Wong's doctor listed his cause of death as a result of "9/11 toxic exposure." The city, apparently hell-bent on disproving this, sent morgue workers to the funeral home to take away the body while his grieving family was holding memorial services:
Family of NYPD cop George Wong who died of cancer rages at city for taking body to disprove 9/11 tie
.
"Ten minutes before the wake, the Medical Examiner called us and said they need to reclaim the body," said Howard Wong, 40, whose brother, George, died after a two-year battle with gastric cancer Thursday at age 48.

"The Health Department had issues with the wording on the cause of death -- that he died from exposure to 9/11 toxins -- and they ordered the Medical Examiner's Office to do it over," Wong said.

The family was permitted to carry out the open-casket wake Monday night, but the body was taken by the ME's office around 10 p.m. -- forcing Wong's relatives to postpone yesterday's planned viewing and also delay his cremation and funeral.

"They totally disrespected our family. Now my brother can't even rest in peace because of this," the younger brother said. "I feel horrible, my mother is crying."
Wong, a twenty-year veteran of the police force, received disability retirement in 2006. He believed his illness was caused by the extended time he served at Ground Zero following the attacks on September 11, 2001.
The city's official policy remains that there is no conclusive link between exposure to Ground Zero toxins and "emerging illnesses, including cancer." They can dispute that all they want, but there has to have been a better way to handle this situation. More here:
City ghouls grab '9/11' cop corpse
.