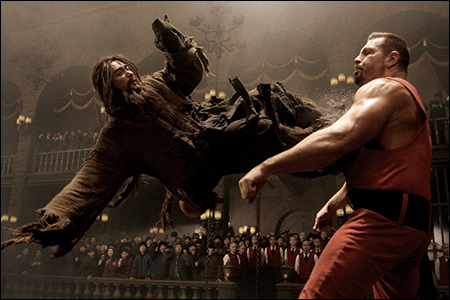 Check out the recently released U.S. trailer for
True Legend
, the latest martial arts flick from venerated action director Yuen Woo Ping hitting American theaters this spring. I don't think I have to explain much -- it's got bad guys and good guys and flying swords and fighting styles. And, um, for some reason... David Carradine. Take a look:
And here's the official synopsis:
Yuen Woo Ping (The Matrix trilogy, Kill Bill Volumes I and II, Crouching Tiger, Hidden Dragon and Hero) brings you True Legend, a heart pounding epic about the timeless battle between good and evil. Su Can's (Vincent Zhao) respectable life is obliterated when his vengeful brother, Yuan (Andy On), returns from war armed with the deadly Five Venom Fists. Weakened but not destroyed, Su Can learns a never-before-seen form of martial arts: the Drunken Fist. Armed with this new power, he returns home to honor his family through retribution by taking on his brother in a battle to become the ultimate warrior. Packed with distinct fighting styles--including MMA, knife combat and sweeping aerial stunts-- and starring martial arts legends Michelle Yeoh, David Carradine and Jay Chou.
Looks good to me. You had me at "drunken fist." I actually picked up the DVD for this movie during my trip to Hong Kong last year, but I haven't had the chance to watch it. Guess I better crack open the shrinkwrap.
True Legend
opens in in limited release on May 13 from Indomina Releasing. For more information about the movie, go
here
.