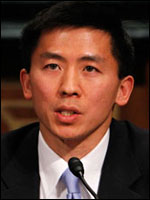 Here we go again... This should not be taking this damn long. UC Berkeley law professor Goodwin Liu, nominated to serve on the 9th Circuit Court of Appeals, appeared before the Senate Judiciary Committee today, back for another try:
Goodwin Liu's Second Hearing
.
Liu was first nominated more than a year ago, on February 24, 2010, but so far he's faced strong resistance from Senate Republicans over his liberal positions. As you can imagine, things did not go very smoothly the first time around. Looks like it's going to be another uphill climb.
Here's an excerpt from a
press release
from the National Asian Pacific American Bar Association, which supports Goodwin Liu's nomination:
"As his testimony today once again demonstrated, Professor Liu is eminently qualified to serve on the Ninth Circuit," said Paul O. Hirose, president of the National Asian Pacific American Bar Association. "Not only does he possess the intellect and temperament to join the bench, he would also become the only Asian Pacific American judge on the Ninth Circuit. This is despite the fact that California has among the highest concentration of Asian Pacific Americans in the nation."

Out of 875 Article III judgeships, currently only 13 judges are Asian Pacific Americans. Judge Denny Chin of the U.S. Court of Appeals for the Second Circuit is the only active federal appellate court judge.

"After two confirmation hearings and several hours of testimony, members of the Senate Judiciary Committee have had the opportunity to thoroughly consider the nomination of Professor Liu," said Karen K. Narasaki, president and executive director of the Asian American Justice Center. "We strongly urge the Senate Judiciary Committee to consider his nomination quickly and for the Senate to have an up-or-down vote without any additional delay."
Here's some more coverage of today's hearing, where Liu backed away from previous strong critical statements he had made about Justice Samuel Alito Jr.:
Liu Says Criticism of Alito Showed 'Poor Judgment.'
Here's a lengthy, detailed piece in support of Professor Liu's nomination from Richard Painter in the Huffington Post:
Qualified, Measured, and Mainstream: Why the Senate Should Confirm Goodwin Liu
. And for more Pro-Goodwin coverage, go to
ConfirmGoodwin.com
.