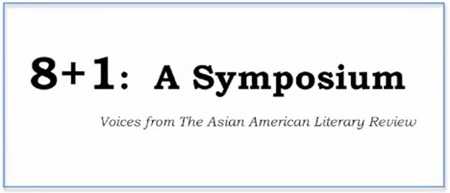 In May, the Asian American Literary Review is hosting
8+1: An Asian American Literary Symposium
, a day-long celebration Asian American literature, writers, and community. Featured readers will include Joy Kogawa, R. Zamora Linmark, Kip Fulbeck, Hiromi Ito and translator Jeffrey Angles, Rishi Reddi, Brian Ascalon Roley, Ray Hsu, Viet Nguyen, and Reese Okyong Kwon.
It's happening Saturday, May 7 at the Japanese American National Museum in Little Tokyo. The event is free and open to the public, but they're currently trying to raise funds on
Kickstarter
to ensure that it all comes together. That's where you come in. Here are some compelling reasons to pledge:
-Great Writers: The featured writers are award-winning and hail from a range of backgrounds, from across the U.S. and Canada, illustrating the wonderful complexity of the Asian American literary landscape. One is a long-established legend, another a promising new talent. One splits time between Japan and Escondido, another between Manila and Honolulu. One chronicles early Sikhs in California, another multiracial America.

-Community: "8 + 1" is a collaborative effort by a range of organizations and university programs, many of them local. It aims to bring together diverse arts, cultural, and academic communities.

-Celebrate the Arts: "8 + 1" offers an all-important moment of artistic self-representation to a historically under-represented group of communities. A pledge is a vote of confidence for Asian American arts.

-Cool Rewards: We've got some great stuff, and we're excited to share it. Our rewards too are celebrations of Asian American arts!

-Tax Exemption: AALR was just granted 501(c)(3) status, so your generous pledges will be tax-deductible!
If you're in Los Angeles, and you're a lover of all things literary, this definitely an event you don't want to miss. And by donating, you'll have a part in helping to make it happen. They've set the goal at $4,000. The deadline is April 19. For more information about the event, and to make your pledge, go to Kickstarter
here
.