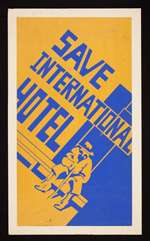 This is an extremely cool blast from the past... A collection of 170 images of posters, artwork and photographs documenting the work of the Kearny Street Workshop and the APA community in 1970s and 1980ss San Francisco were recently contributed to the California Ethnic and Multicultural Archives at the UC Santa Barbara Library Department of Special Collections -- and they're all available for viewing
online
.
The Kearny Street Workshop is the oldest multidisciplinary Asian American arts organization in the country. Founded in 1972 in San Francisco's Chinatown/Manilatown neighborhood, KSW quickly grew into a full-fledged community arts center and cultural hub. The archival collection reflects KSW's unique and notable blending of art and activism.
The bulk of the digitized collection is made up of photos and color posters related to KSW events and issues from the mid-1970s through the late 1980s. It's a virtual treasure trove of art, history and activism. More information on the collection here:
New on OAC and Calisphere: Kearny Street Workshop posters from UCSB
.