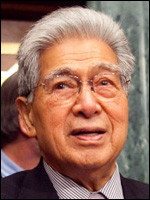 This week, Daniel Akaka, the Democratic junior Senator from Hawaii, announced that he will not be running for re-election in 2012, after twenty-two years in the Senate. At 86-years-old, he is currently the third-oldest member of the Senate:
Daniel Akaka Retiring In 2012
.
Senator Akaka had previously said that he planned to run for re-election, despite questions about his age and health. But his last campaign finance report only showed $66,278 in the bank, way short of the amount he'd need to mount a successful campaign. In his statement, the senator expressed that this was the right time for him to step down from Congress:
"It was a very difficult decision for me. However, I feel that the end of this Congress is the right time for me to step aside," Akaka said in a statement. "I have always strived to serve the people with much love and aloha."

Akaka, the only U.S. senator of Native Hawaiian or Chinese ancestry, suffered a major defeat in December when he failed to get a full Senate vote on legislation granting Native Hawaiians the right to form their own government. The measure, known as the Akaka bill, had been the senator's priority for the last 11 years, but its progress has stalled indefinitely.

Then last week, Hawaii's other senator - Daniel Inouye - said he wouldn't be able to provide Akaka the financial support he has in the past.

Inouye, a powerful force in Democratic circles, gave $300,000 to the national Democratic Senatorial Campaign Committee in 2006 to help Akaka defeat a rival for the party nomination, former U.S. Rep. Ed Case.
Democrats hold a 53-47 majority in the Senate, including two independents who side with them. Akaka's retirement leaves Democrats with another open seat to defend on the ballot next year. More here:
Akaka retiring
.