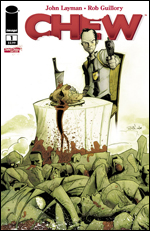 So we've known for a little while that Circle of Confusion, the company behind AMC's
The Walking Dead
, has been
working on a TV series
based on John Layman and Rob Guillory's bestselling comic book series
Chew
.
Chew
tells the darkly comic story of federal agent Tony Chu, a "cibopath" able to get psychic impressions from the things he eats, who is asigned to the most unusual and bizarre crimes. The comic book is great, and goes to some really entertaining and gross places.
And now the show has a network. According to Deadline.com, Showtime has bought a script for
Chew
, described as "a quirky half-hour cop show":
Showtime Developing Comedy Series Adaptation Of Comic 'Chew.'
Showtime has bought a script for Chew, a quirky half-hour cop show based on John Layman and Rob Guillory's bestselling comic book of the same name. Stephen Hopkins is attached to direct and executive produce the project, which hails from Circle of Confusion, the company behind AMC's hit series adaptation of Robert Kirkman's The Walking Dead.

Terri Hughes Burton and Ron Milbauer (Eureka) wrote the Chew script, which will now be tweaked under Showtime's guidance. Chew tells the darkly comic story of federal agent Tony Chu, a "cibopath" able to get psychic impression from the things he eats who is assigned to the most usual and bizarre crimes. "There are a lot of superhero comic books, but there are not many food comic books," Layman told me back in July when the TV project was still in the nascent stages. Along with Hopkins, Burton, Milbauer, David Engel and Circle of Confusion are also executive producing Chew, with Hopkins' producing partner Kate Garwood expected to produce in some capacity. Hopkins has a longstanding relationship with Showtime: He directed the pilot for the network's dark comedy series Californication and recently helmed an episode of freshman drama Shameless as well as one of Showtime's recently ordered pilots, the Don Cheadle starrer House of Lies.
As I've said before, this news is significant because the comic book's hero is unmistakably an Asian American character. His ethnicity figures into his character development -- there's no way of getting around it. So what I'm saying is, when
Chew
goes into production, the character better not go through some Hollywood voodoo magic and conveniently turn into a white guy.
So... who should play Tony Chu? From the very beginning, creator John Layman has said that he character's look is
based on Ken Leung
. Layman even told me himself -- I met him at Comic-Con a couple of years ago -- that if there was ever a TV or movie version of
Chew
, Leung would be the perfect choice for the the role.
And Ken Leung is a damn good actor. So if we're talking perfect casting, it's him. The only complication is that Ken was
recently cast
in the A&E drama pilot
Big Mike
. Dependent on whether or not that show gets picked up, he might not actually even get the chance at being in
Chew
. I guess we'll see.