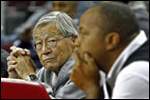 This is a cool
Los Angeles Times
story from last week on Yutaka Shimizu, basketball assistant coach at Taft High:
Taft High basketball gets old-school coaching lift from Yutaka Shimizu
.
With over fifty years of experience, Shimizu is considered something of a Los Angeles high school basketball institution. The article begins with a simple story involving revered UCLA basketball coach John Wooden:
Woodland Hills Taft Coach Derrick Taylor was in Louisville, Ky., four years ago coaching the West team in the McDonald's All-American game when he walked into a room for breakfast with assistant coach Yutaka Shimizu.

Suddenly, a familiar voice spoke up.

"Coach Shimizu."

It was John Wooden.

"That's when you know you're the man, when the ultimate coach calls you over," Taylor said.
Last weekend, Coach Shimizu helped Woodland Hills Taft win its third City Section Division I title with a
66-62 win over Westchester
.