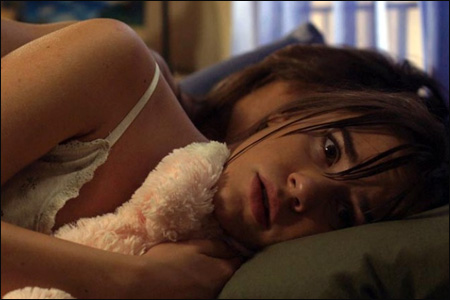 Just wanted to throw a spotlight on a few of the many amazing films screening at 2011 Los Angeles Asian Pacific Film Festial, running April 28 through May 7...
One Kine Day
, the debut feature from director Chuck Mitsui, is a coming-of-age story set in the world of a Hawaii slacker-skater who sees his relatively carefree world fade away when he learns his girlfriend is pregnant. Here's more from the LAAPFF catalog:
Ralsto (played by newcomer Ryan Greer), a 19-year-old skateboarder, may seem like the ultimate slacker.
He works part-time at the local skate shop and hangs out at the beach. He ignores his mom's (played by Julia Nickson) constant pleas for him to get a "real" job at the post office, where she has worked all her life. He gets around town on his only set of wheels — his skateboard — or bums rides off his friends. Ralsto is in no rush to jump into adulthood; until one day his girlfriend announces that she thinks she may be pregnant. Ralsto ponders the gravity of the situation and tries desperately to earn enough money to pay for his girlfriend to get "da kine." His girlfriend Alea (played by Christa B. Allen), still a student at the local high school, doesn't believe that Ralsto is taking the situation seriously. Her BFF Leilani (played by Janel Parrish), herself a teen mom, tries to convince Alea that having a baby is no big deal. After all, Leilani seems to still maintain an active party life, never mind that her parents are stuck babysitting while she's out on the town. In his attempt to own up to his responsibility, Ralsto's attempts to earn the money for "da kine" seem to be constantly thwarted by one unfortunate happenstance after another. Whether he finds himself unwittingly caught up in a cock-fighting scene, or breaking and entering, to drug-dealing, Ralsto's innocent baby face and unwavering focus on securing funds for "da kine" makes him seem an unlikely hero who just happens to be the victim of unfortunate circumstances.
This "day in the life of" a local kid was filmed on the windward side of Oahu. From its opening long shots of local landmarks and its contemporary Hawaiian soundtrack, anyone who has lived in Hawaii or spent considerable time there will feel a sense of authentic local flavor and perspective in ONE KINE DAY. Written and directed by Chuck Mitsui, this film won the Audience Award for Best Feature at the 2010 Hawaii International Film Festival. (Vera DeVera)
One Kine Day
screens Sunday, May 1 at the Director's Guild of America, and will be preceded by the short
Big Trouble in Little Electric Vehicle
. For more information about the screening, and to purchase tickets, go to the LAAPFF website
here
. Also check out the film's official website
here
.