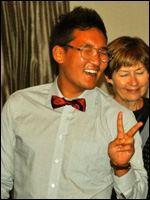 It's a crazy week, so we're doing this a little early... It's the
Angry Reader of the Week
, spotlighting you, the very special readers of this website. Over the years, I've been able to connect with a lot of cool folks, and this is a way of showing some appreciation and attention to the people who help make this blog what it is. This week's Angry Reader is Davis Jung.
Who are you?
I am Davis Charlesfield Jung. Ok, that middle name isn't real, but it's pretty damn cool, right?
What are you?
I'm a working graduate student, and full-blooded Korean-American. But also a padawan. Wizard-wannabe. Constantly disavowing my muggle status. I took a class in Ancient Greek Magic in college (yes... Brown would be a college that offers Ancient Greek Magic...) in a desperate attempt to learn some spells. Instead, I learned the theory and theology behind sacrificing a goat. I think that pretty much sums up my life.
Where are you?
In my bed. Or in a bed. I kind of naturally gravitate towards beds. Or really any soft surfaces or objects that are conducive to snuggling like body pillows, life-size stuffed animals, electric blankets, fur stoles, and my personal favorite- snuggies (I have multiple). I think a leitmotif in my life is this philosophy of "what steps must I take in order to ensure I can get into my PJ's the fastest." Especially now that I've been on this weird reading binge about how sitting for more than six hours a day is lethal (it can cause heart disease even among healthy males). This has led me to the belief that all work should be done lying down; I envision having beds in the office - instead of cubicles it should be bedicles... ok, that sounds gross.
Where are you from?
I was born in Davis, California (hence my name) but grew up outside of Boston, MA. I returned to my Californian roots this year though by moving to Los Angeles!
What do you do?
Currently, I work at Visual Communication (yea!) as this year's Conference Producer for
C3: The Conference for Creative Content
. As part of the lineup for this year's LA Asian Pacific Film Festival, the C3 Conference will be a landmark event and the first of its kind in creating an event dedicated to discussing the role of APAs in New Media industries. The conference has been a HUGE endeavor on Visual Communication's part, along with the very supportive Coalition of Asian Pacifics in Entertainment (CAPE); it really makes me so proud to know that these institutions in our community really take notice of young and emerging filmmakers regardless of whether they are working in traditional media or new.
The C3 Conference will take place April 30th - May 1st at the Director's Guild of America. It will analyze the new media systems from the bottom-up, with panel topics ranging from producing to distributing, acting to directing, sharing information to sharing yourself. Our list of speakers is also really awesome and I know our conference-goers will learn a lot from them. Most of all, this conference is to commemorate APA new media filmmakers and educate both the public and the entertainment industry on the huge and important movement of new media content.
What are you all about?
Democratization of media. Empowerment of the consumer. Don't get me wrong, I love blockbuster movies, the cheesier and cliched the better. At the same time, I'm all about agency in choice. I choose to find meaning and entertainment in bad movies. Luckily for me, we live in a culture where Hollywood is churning those out. For an audience that would like to choose to watch movies about Asian-American identity or other minority or sub-culture topics, the selection is disappointingly few. With the advent of new media, we are finally in a position where we no longer have to wait for an outdated studio system to create a production that reflects the narratives we want to see and hear; now, the audience can make their own movies and stories and share them with an audience that is hungry for those stories.
What makes you angry?
1. Potato chip bags that are only filled halfway. You know what potato chip company? You win. I'll just buy two. YOU GOT ME.
2. People who claim to be "Star Wars nerds lolz" but have yet to actually even read a book from the Star Wars Expanded Universe novella canon. Listen, if you can't tell me what a Yuuzhan Vong is or tell me the complete lineage of the Solo-Skywalker clan, then you're not a Star Wars nerd, so please stop wearing that 'vintage' t-shirt you got off Urban Outfitters, you're embarrassing yourself. Sorry, that was harsh, but it needed to be said.
3. But most of all, I think I stay angriest at myself. To be completely honest, I think most of things that people do to make me angry are qualities and actions I am afraid that I am capable of. I get angry at hypocrisy, at pre-mature judgment, at complacency, and I know that it's because I have a tendency to partake in all these vices. In staying angry at myself, I form my own watchdog that helps challenge and guide me. It also makes me more conscious of whatever ideologies or institutions that may be limiting my own agency; by becoming angry at myself in listening to such societal beliefs, I am enabled to fight against them.