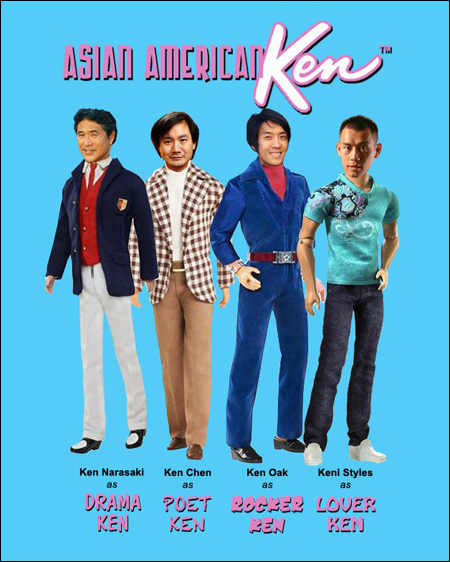 Jeff Yang's latest "Asian Pop" for SF Gate is all about Ken. As in Barbie's boyfriend, who is actually turning 50 this year. To mark the occassion, Jeff writes about going in search Asian American male dolls and coming up very few and mostly uninspired choices:
Yes we Ken?
Then it dawned on me that just as Barbie has over the years been translated into different races and nationalities -- Mattel began offering an "Oriental Barbie" variant in 1980 -- there surely ought to be an Asian Ken. And a search for that phrase on Amazon proved that, as of last year, there was!

Except that Japan Ken, Mattel's first ever Asian male fashion doll, was dressed in a kind of po-mo samurai outfit, complete with topknot, a high-collared crypto-supervillain robe and yes, an unsheathed katana.

Why is it so difficult to find a normal Asian male in the Valley of the Dolls -- one who doesn't look like he might disembowel his housemates at any time? If Barbie has vaguely Asian American gal pals like Kira, Dana, Nikki, Nia, Lea and Miko, why, for the love of Bruce, doesn't she have any vaguely Asian American guy buds?

Hell, why couldn't Ken be Asian?
So Jeff comes up with some suitable Asian Ken alternatives to offer up to Mattel, inspired by real life Asian Kens like poet Ken Chen ("Poet Ken"), musician Ken Oak ("Rocker Ken"), actor/playwright Ken Narasaki ("Drama Ken"), and adult film star Keni Styles ("Lover Ken"). Just in case Barbie is looking again.
On a similar note, my secret geek hobby is collecting action figures. (Not dolls!) But not just any action figures -- Asian American figures. My collection is small, but it includes Kato from
The Green Hornet
, multiple versions of Sulu, a couple of
Lost
characters and of course, Quick Kick from
G.I. Joe
.