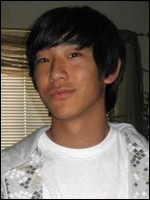 Received the news that 21-year-old Lance Cpl. Harry Lew, a Marine from Santa Clara, CA, died Sunday while serving in Afghanistan. The details of death were not disclosed, but he had been supporting combat operations in Helmand province:
Harry Lew, South Bay Marine, dies in Afghanistan
.
Lew was an infantryman based in Kaneohe Bay, Hawaii, with the 2nd Battalion, 3rd Marine Regiment, 3rd Marine Division, III Marine Expeditionary Force. According to friends, he had joined the Marines because he wasn't sure what he wanted to do with his life.
Lew joined the Marine Corps in August 2009. He had been deployed to Afghanistan in November and helped to conduct counterinsurgency operations with the Afghan National Security Forces, and to provide security for the Afghan people, officials said.

"Brand new Marine. Feels good," Lew wrote on his Myspace page several months after joining the service. In a Facebook message to his friends in March, Lew wrote that it was "hot in Afghanistan" and that he would "see everybody in three months."
It's tragic. Harry Lew graduated from Santa Clara High School in 2008, not too far from where I grew up. He apparently was an accomplished dancer specializing in "tricking," and performed in school assemblies and other functions. More here:
Santa Clara: Friends of Marine who died in Afghanistan to honor him with 'tricking' session
.