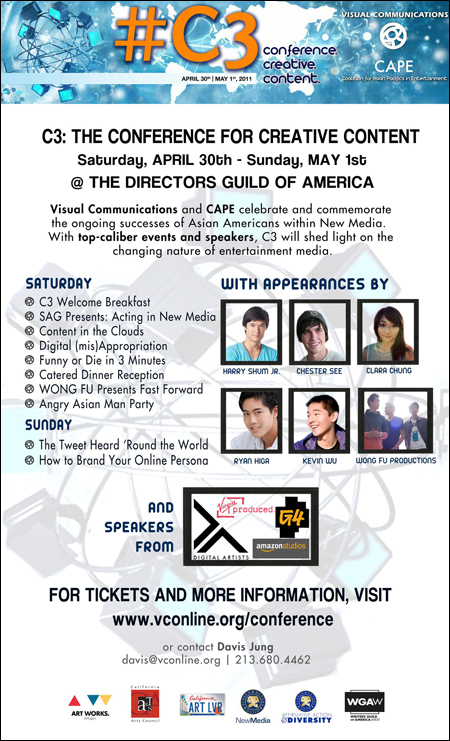 If you're in Southern California, or have plans to be in Los Angeles at the end of the month, I want to make sure you're aware and have the opportunity to attend the inaugural
C3: The Conference for Creative Content
, happening Saturday, April 30 and Sunday, May 1 at the Directors Guild of America.
Presented by Visual Communications and the Coalition of Asian Pacifics in Entertainment, and running concurrently with the 2011 Los Angeles Asian Pacific Film Festival, the conference will explore the growing influence and success of Asian Americans within the realm of new media:
Visual Communications, in partnership with The Coalition of Asian Pacifics in Entertainment (CAPE) is proud to present C3: The Conference for Creative Content. Though uncharted and unexplored, the world of New Media has provided a playing field in which Asian-Americans are no longer the minority, but thoroughly engaged at its forefront. With its burgeoning young market that has enthusiastically embraced digital and online platforms, the Asian-American audience has found both a diverse and unified voice for visibility.

Visual Communications and CAPE celebrates and commemorates the landmarks and ongoing successes of Asian Americans within New Media. With top-caliber events and speakers, C3 will shed light on the changing nature of entertainment media and allow larger audiences to connect with Asian American talent through a diverse array of panels and seminars approaching new media from all angles. All panels and events, except for the Angry Asian Man Party, will be held at the Directors Guild of America.
The C3 Conference begins on Saturday, April 30 with a complimentary welcome breakfast, followed by a full lineup of panels, a catered dinner reception sponsored by CAPE, complimentary admission to the
WongFu Productions Presents: Fast Forward
screening, and additional panels the next day. And dude, don't you want to meet
Harry Shum Jr.
?
There will be an overload of awesome people participating in the various panels, but I do want to throw out an extra plug for the panel I'll be moderating:
The Tweet Heard 'Round The World
, a discussion on blogs and social media with panelists Ernie Hsiung of 8Asians; Diana Nguyen of Disgrasian; YOMYOMF.com; and Christof Putzel, Emmy-nominated journalist and director of
Left Behind
. Its happening Sunday, May 1 at noon.
The C3 Conference Badge gets you access into every panel, seminar, reception -- as well as free admission to the festival's Friday night
Gamer's Night
party and Saturday night's
Angry Asian Man 10th Anniversary Party
(yup, we're celebrating in style). So get your C3 conference badge -- just $40 ($35 for VC, CAPE, and SAG Members; $20 for students with ID) -- before space runs out.
The VC staff has been working hard to make this inaugural conference an informative and rewarding experience. It's going to be pretty rad. For more information about C3: Conference for Creative Content, including the full schedule panels and participants, go to the LAAPFF website
here
.