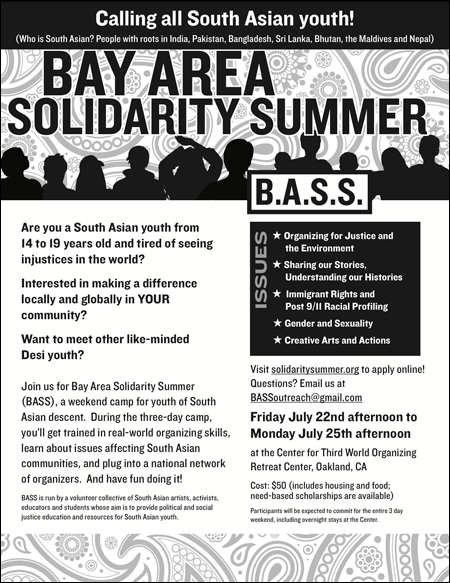 Our friend Taz passes along this cool youth opportunity... This July South Asian American teenagers from across the San Francisco Bay Area will convene for the first ever
Bay Area Solidarity Summmer
, a four-day leadership camp for youth of South Asian heritage to learn about progressive issues, gain organizing skills, connect with other activists, and develop themselves into leaders.
Organized by the Alliance of South Asians Taking Action, the all-inclusive camp will provide space for young people to learn skills on how to be a social activist, as well as learn about issues affecting the South Asian community both locally and globally. It's happening July 22-26 at the CTWO Training/Retreat Center in Oakland. Here are some more details:
CALLING ALL SOUTH ASIAN YOUTH

Are you a 14-19 year old South Asian, tired of seeing injustices in the world?

Interested in learning how to make a difference locally and globally for YOUR community?

Want to meet other Desi youth who want to make a difference?

Join us July 22-26 for Bay Area Solidarity Summer (BASS), a 3-night camp for youth of South Asian heritage.

During the 3-day all-inclusive camp, you'll:

* get trained in organizing skills,
* learn about important issues affecting South Asian communities
* engage in arts and political workshops
* get plugged into a national network of progressive South Asian organizers
* and of course, have fun doing it!

APPLY TODAY!
DEADLINE: MAY 16th, 2011

Who: 14-19 yr old of South Asian heritage

What: 4-day 3-night leadership camp

When: Fri. July 22nd — Mon. July 26th

Where: CTWO Training/Retreat Center
Oakland, California

Cost: $50
Cost covers all housing and food.
Need-based scholarships are available.

Participants will be expected to spend three nights together at the Center.
This sounds like an amazing opportunity. They're drawing together an amazing group of organizers, scholars and activists to help raise up the next generation of South Asian leaders. For further information on the program and how to apply, go to the Bay Area Solidarity Summer website
here
. The deadline is May 16.