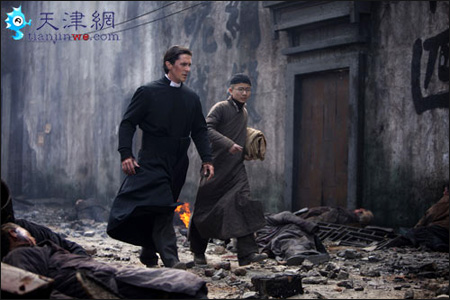 The first couple of images of Christian Bale on the set of his latest movie, currently filming in China
recently hit the web
.
13 Flowers of Nanjing
, director Zhang Yimou's first multi-lingual film, is a war drama set during the 1937 Nanjing massacre. Bale plays an American priest named "John." Here's the official synopsis and production details:
13 Flowers of Nanjing is set in 1937 in Nanjing, China during Sino-Japanese War, where a few brave refugees find sanctuary in a Church compound. The group, thrown together by the terrible chaos of war, risks their lives for the Church's school children as they struggle to survive the violence and persecution brought on by the violent invasion of the city. Through tremendous adversity, heroism presents itself among the least likely individuals as they bravely navigate their treacherous surroundings to try and save themselves and each other. 13 Flowers of Nanjing is a story of heroism and love: for those around you, for one's family, and the love between an unlikely couple which fate brings together. Christian Bale will play John, an American, trapped thousands of miles from home and seemingly, with nowhere to turn.

Produced by Zhang Weiping and Bill Kong, the film will incorporate both Chinese and English dialog into its narrative. Zhang Yimou will be reuniting with Beijing New Pictures and Edko Films Limited for the project. David Linde will executive produce. The team has also tapped Xiaoding Zhao as director of photography (House of Flying Daggers, Curse of the Golden Flower); renown special effects supervisor Joss Williams (Aliens, The Bourne Ultimatum, Munich); production designer Yohei Taneda (Kill Bill Vol. 1); composer Qigang Chen (Under The Hawthorn Tree); production and costume designer William Chang (In The Mood of Love, 2047) ; and costume designer Graciela Mazon (The Legend of Zorro, From Dusk Till Dawn).
I'm glad that someone with star power like Christian Bale has stepped into a role that will draw more attention to this horrifying moment in history. But I'm also rolling my eyes that this is yet another other movie set in Asia with a western protagonist at its center. Or, as one reader puts it, "more white man in China adventures."
As I've said many times before, you can have a story set anywhere in the world, during any moment in history... and somehow, the movies will always find a way for it to revolve around a white guy (usually saving some natives). More here:
First Look: Christian Bale in 'The 13 Women of Nanjing,' aka 'Nanjing Heroes.'