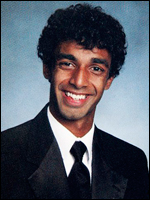 Dharun Ravi, the Rutgers University student who used a hidden camera to film his roommate's sexual encounter with another man and
live-streamed the video online
, has been indicted on privacy and bias charges. His roommate, freshman Tyler Clementi, killed himself over the incident:
Roommate indicted in Rutgers University suicide case
.
On Wednesday, a grand jury handed down a fifteen-count indictment against Ravi, including invasion of privacy, bias intimidation, tampering with physical evidence, witness tampering, and hindering apprehension or prosecution:
The indictment alleged that Ravi secretly viewed and streamed online the encounter between his roommate, Tyler Clementi, and another man in September of last year. Authorities said Ravi allegedly secretly placed a camera in the room and accessed it remotely.

Ravi "then provided others an opportunity to view the encounter," Middlesex County Prosecutor Bruce J. Kaplan said in a statement.

Two days later, Ravi attempted to view a second encounter between Clementi and the same male, alerting others on Twitter of the planned meeting, the statement said.

Ravi is accused of then deleting the tweet and replacing it with a false tweet in order to mislead the investigation, according to the statement.
Ravi's co-defendant, Molly Wei, who lived in the same dormitory and was also charged with invasion of privacy, was not indicted. According to the prosecutor, the case against her remained active but would not be presented to a grand jury at this time, suggesting that she could testify against Ravi.
With the inclusion of bias charges, if convicted, Ravi could face a potential sentence of at least 5 to 10 years in prison. I don't think it's too harsh suggest that Dharun and Molly failed at being decent human beings the very moment they came up with this cruel idea. More here:
Roommate Faces Hate-Crime Charges in Rutgers Case
.