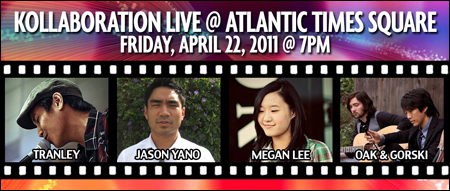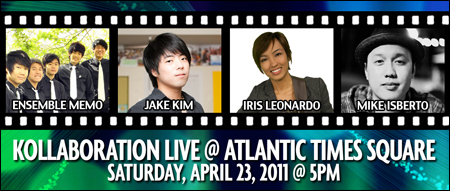 Kollaboration has taken the show on the road! Or, um, Monterey Park. If you're in Southern California, you're invited to check out a series of free concerts they're producing to spread the Kollaboration talent show movement to wider audiences:
Kollab Live at Atlantic Times Square
.
The shows are happening under the LCD Pavilion at Atlantic Times Square in Monterey Park, starting April 22 and running through June 4. The first two shows are this weekend, and will feature the likes of Megan Le, Oak & Gorski, Iris Leonardo, Mike Isberto and more. Here are some more details:
Kollab Live at Atlantic Times Square

Atlantic Times Square at the LCD Pavilion
500 N. Atlantic Blvd, Monterey Park, CA 91754
All Ages Welcome! Parking is free!

Date: Friday, April 22, 2011
Time: Performances start at 7PM
Performers:
- Richard "Tranley" Tran
- Jason Zengo Yano
- Megan Lee
- Oak & Gorski

Date: Saturday, April 23, 2011
Time: Performances start at 5PM
Performers:
- Ensemble Memo
- Jake Kim
- Iris Leonardo
- Mike Isberto
The events are all free, and will feature artists scheduled to appear as finalists in the upcoming
Kollaboration Acoustic 5
show, as well as local Kollaboration alumni. For further information, go to the Kollaboration website
here
, and the Facebook event pages for this
Friday's
and
Saturday's
shows.