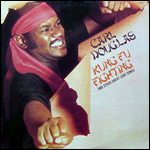 I read this headline and thought it was a joke, like something out of
The Onion
... but it's apparently true. Last weekend in England, a singer was reportedly arrested on "racism charges" after a man of Chinese descent complained about his performance of the song "Kung Fu Fighting":
Man arrested for singing 'Kung Fu Fighting.'
The Chinese man, who happened to be passing by the bar when the band was playing the 1970s hit, apparently took offense. The whole thing sparked some kind of altercation, in which the Asian guy "hurled an expletive and made an obscene hand gesture at the performers":
Simon Ledger, 34, told Britain's The Sun newspaper that he and his band were performing the 1970s classic at the Driftwood Beach Bar on the Isle of Wight off the southern coast of England.

"We were performing Kung Fu Fighting, as we do during all our sets," he told the newspaper. "People of all races were loving it. Chinese people have never been offended by it before."

But Ledger told The Sun an Asian man walking by with his mother hurled an expletive and made an obscene hand gesture at the performers during the Sunday afternoon performance, then took a photo with his cell phone.

"We hadn't even seen them when we started the song. He must have phoned the police," The Sun quoted him as saying.
The Asian man reportedly contacted police later that day, claiming that he was "subjected to racial abuse." The singer, Simon Ledger, was later called and arrested on "suspicion of causing harassment, alarm or distress." More here:
Isle of Wight musician's 'racist' arrest over song
.
Now, "Kung Fu Fighting" annoys the hell out of me. Seriously. I cringe when hear this damn song pop up in movies and commercials. I certainly
wish
it would be illegal to play or perform it... because the song is friggin' awful. But an act of racism? Not sure we're getting the whole story here...