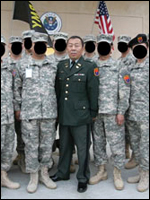 Asian behaving badly... immigration scam edition! This one's pretty creative. This week in Pomona, California, a Chinese national was arrested for creating
a phony U.S. Army special forces unit
out of an office in Temple City, as a front for an immigration scam:
El Monte resident arrested for creating phony U.S. Army unit in Temple City, recruiting Chinese nationals to pay to serve
.
Yupeng Deng is suspected of recruiting more than a hundred Chinese nationals into the fake Army unit by offering a path to citizenship. He is charged with 13 counts of theft by false pretenses, manufacturing deceptive government documents and counterfeit of an official government seal.
Deng gave himself the title of "supreme commander" of the fake military unit, officials said. The unit began in Oct. 2008 and was ran out of Deng's office on Las Tunas in Temple City, officials said. The office was made to look like a legitimate Army recruitment office, officials said.

At the office, recruits were required to meet with Deng "to undergo military training and indoctrination," officials said.

Deng provided recruits with military ID cards, documents and Army uniforms that were described as "official looking," said Los Angeles County District Attorney's Office spokeswoman Jane Robison.
"Recruits" were charged between $300 and $450 with renewal fees of $120 each year. Recruits could apparently move up in "rank" if they paid higher fees. I have to wonder what transpired during the "military training and indoctrination," and what exactly they were training for. Hell, the unit even appeared during a parade in Monterey Park!
In the end, with all the work that had to go into creating this crazy elaborate ruse, you'd think Deng would just be better off just getting an honest job. Of course, lawyers for Deng say the sham army unit was actually a charity modeled after the Salvation Army. Oh,
that
army:
Lawyers for man accused of raising fake army say group was a charity
.