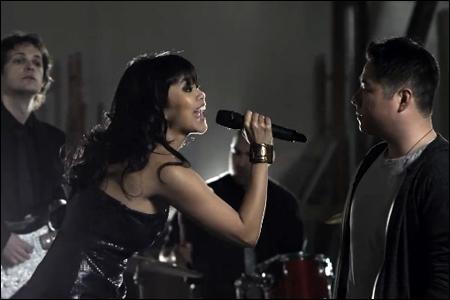 Paperdoll, one of our favorite bands, just released the music video for their brand new single
"You Can't Stop It."
I am digging the song. And seriously, lead singer Teresa Lee kicks all kinds of ass. You actually can't measure how much ass she kicks. It's just that much. Take a look:
I'm proud to say that I actually had a small hand in helping this music video come together. A little while back, the band put out a call to track down the dancing dude
in this video
, so I posted something about it. Somehow word made its way back to the guy, Hans -- all the way in Ohio -- and they put him in the video! Here's a
behind-the-scenes thing
on the making of the music video:
It looks really cold in there. If you like the track, you can download "You Can't Stop It" from
iTunes
. And for more information about Paperdoll and their music, go to the band's website
here
and their Facebook page
here
.