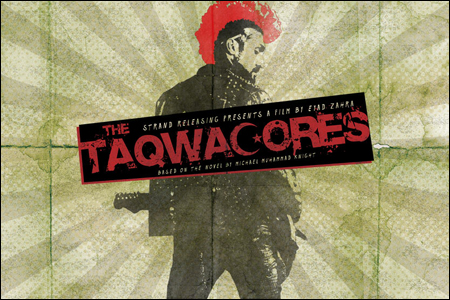 The Muslim punk indie film sensation, Eyad Zahra's
The Taqwacores
, is out on DVD today. If you missed the film's world premiere at Sundance, or its award-winning run on the film festival circuit, or its limited theatrical run, you can now pick it up, pop it in your DVD player and watch
The Taqwacores
from the comfort of your couch. Here's the
trailer
:
The film is directed, produced and co-written by Eyad Zehra, produced and co-written by Michael Muhammad Knight, and stars Bobby Naderi, Noureen DeWulf and Dominic Rains. Here's the movie's synopsis:
Yusef , a first-generation Pakistani engineering student, moves off-campus with a group of Muslim punks in Buffalo, New York. His new "un-orthodox" housemates soon introduce him to Taqwacore -- a hardcore, Muslim punk rock scene that only exists out west.

As the seasons change, Taqwacore influences the house more and more. Ultimately, Yusef is influenced by Taqwacore too, as he begins to challenge his own faith and ideologies.

The Taqwacores deals with the complexities of being young and Muslim in modern-day America.
Badass! Seriously, a super-cool movie that picked up multiple at last year's Los Angeles Asian Pacific Film Festival, including Best Film, Best Director, Best Ensemble Cast, Best Script and the Audience Award. Get it
Amazon
and all the usual places you get DVDs. And for more information about
The Taqwacores
, go to the official website
here
.