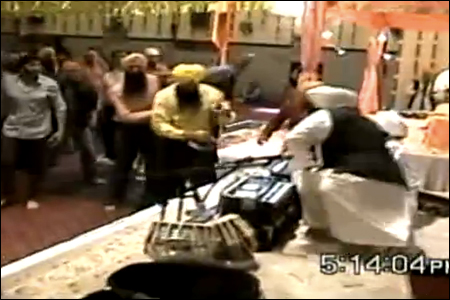 Okay. I don't know about you, but when I come across a link that says
"Sword fight at Sikh temple,"
it's just one of those things -- I have to click on it. Generally speaking, "sword fight" usually gets my attention. I'm afraid I'm just wired that way.
This week in New York, seven people were arrested on riot and assault charges after a brawl involving
swords and cricket bats
broke out at a Sikh temple:
Sword fight erupts at NYC Sikh temple; 7 charged
.
I present to you the video:
The video is not quite as exciting as you might have imagined, but things apparently got a little bloody. The fight was reportedly instigated by a dissident group of the temple's followers who are opposed to opening up membership:
Eight men were arrested on various charges of assault, criminal possession of a weapon and disruption of a religious service, police said. A police officer suffered minor injuries during the brawl.

"It's shameful for everybody," said Gurmej Singh, who said he was elected as president effective at the beginning of the year. "This is a religious place where we go for peace and people are ready to be killing each other. I feel bad."

He said that his rival for the presidency, Jarnail Singh, arrived with a gang of followers carrying weapons early on Sunday morning and waited inside the temple and started shouting at and attacking worshipers as they arrived, threatening to kill them.
Jarnail Singh denies initiating the violence, insisting that he and his supporters arrived at the temple for "peaceful prayer." Who knows? But if you're just looking at that video, it looks like a big group of dudes coming in to start some shit. More here:
Prayers at Sikh Temple in New York erupt in sword fight
.