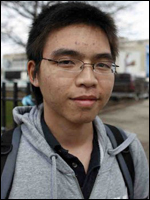 This news is from a couple of weeks ago, but I didn't want to miss the chance to share it... In Philadelphia, 19-year-old Duong Nghe Ly, a senior at South Philadelphia High School, was recently awarded the Princeton Prize in Race Relations from Princeton University:
Asian student from S. Phila High wins Princeton award
.
Ly won the prize for his working in co-founding the Asian Student Association of Philadelphia and for "exceptional leadership" in exploring solutions to racial violence at his school and across the city. This is the second straight year an Asian student at South Philadelphia High as received the award:
The Princeton Prize is awarded annually to one or occasionally two high school students from each of 23 regions around the country. It was established by the university in 2003 "to promote harmony, respect, and understanding" by recognizing students who have a significant, positive effect on race relations.

On Dec. 3, 2009, Southern was rocked by a daylong series of assaults on Asian students carried out by groups of mostly African American classmates. Seven Asian youths went to hospitals and about 50 staged a weeklong boycott.

Last year, the Princeton Prize was awarded to Wei Chen, a boycott leader who demanded accountability from school officials. Ly, then a junior, worked closely with Chen to bring attention to violence issues.
Ly, who immigrated from Vietnam in 2008, has been accepted at the University of Pennsylvania for the fall. He sounds like a pretty awesome young guy who has worked hard to overcome a lot of adversity, and is still working hard to make his community a better place.
Considering all the crappy news that has emerged from the violence at South Philadelphia High, it's great to hear about the young people who are really trying to do something about it.