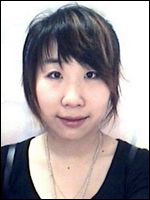 This is a
crazy
story, like something out of a horror movie. In Toronto, an exchange student, 23-year-old Qian Liu, was attacked and killed in her apartment last week while her boyfriend in China watched in horror via webcam:
Exchange student slain after frantic friend watches webcam attack
.
This week, Toronto police arrested and charged 29-year-old Brian Dickson with Liu's murder. He is scheduled to appear in court on Thursday morning:
Police: arrest in case of dead Chinese student
.
Liu, a student at York University, was talking to her boyfriend friend when a man allegedly knocked on her door, asking to use her phone. The online witness apparently saw her and the assailant struggle before the attacker turned off the laptop. After her boyfriend notified authorities, Liu was dead in her apartment a few hours later:
The body of York University student Liu Qian, 23, of Beijing, was found Friday in her apartment in Toronto a few hours after her boyfriend witnessed the attack, police said. She was naked from the waist down and there were no obvious signs of sexual assault or trauma severe enough to kill her. The autopsy was inconclusive, and police said Tuesday they were awaiting toxicology test results.

Dickson is not a student at York, university spokeswoman Janice Wells said.

Liu was chatting with her boyfriend, Meng Xianchao, by webcam at about 1 a.m. Friday when a man knocked on the door, police said.

Meng reported seeing a struggle break out between the two before Liu's webcam was shut off. Meng contacted other friends in Toronto who in turn called police.
Unbelievable. And horrifying. An autopsy reported did not reveal how she died, but police are treating her death as a homicide. Authorities have asked the media not to publish any photos of Dickson, saying it could compromise the investigation. More here:
Police make arrest in York student slaying
.