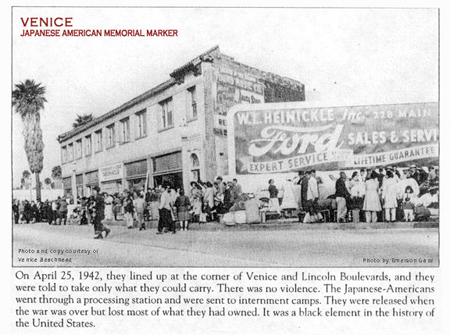 Some interesting news out of Southern California... On Monday, April 25, the Venice Japanese Memorial Marker Committee will hold a groundbreaking ceremony for a marker commemorating the 69th anniversary of the forced relocation of Japanese Americans to concentration camps during World War II.
The memorial marker will be located on the northwest corner of Venice and Lincoln Boulevards near the former "Civil Control Station" where in April of 1942, local residents from Venice, Santa Monica and Malibu assembled and then boarded buses to the Manzanar War Relocation Authority Camp and would spend the next three years of their lives.
Here's an excerpt from the VJAMM press release:
In words excerpted from Councilmember Bill Rosendahl's July 16, 2010 motion, this "commemorative marker . . . [would] serve as a constant reminder of the denial of U. S. Constitutional rights to a minority group that simply shared the ethnicity of the nation that attacked Pearl Harbor on December 7, 1941" and would "commemorate the start of the internment of hundreds of Japanese Americans living in the Venice community on April 25, 1942."

Artist Emily Winters, along with VJAMM committee members, incorporated into the memorial marker's design, suggestions made at a community meeting held on another historic date, September 11th at the Venice Hongwanji Buddhist Temple. A picture of the marker that will include a bronze plaque on top of a concrete pedestal will be on display. (The lettering on the plaque is attached).

Venice High School teacher Phyllis Hayashibara said, "It's very gratifying to know that there are people in the Venice community who care about their history, and are doing something about preserving it. It's especially inspiring that one of my students revitalized the almost decade-long effort to commemorate the northwest corner of Venice and Lincoln simply by bringing in a Free Venice Beachhead article for a current event discussion in class. That very small gesture in April 2009 has led to a coalition of community partners who are actively engaged in getting the Venice Japanese American Memorial Marker designed and installed --we hope before the passing of the last generation of Manzanar internees."

While most Venice residents remain unaware of the role this heavily traveled intersection played in the lives of many of their former and current neighbors, the spot is one that continues to affect the lives of those ordered there almost seventy years ago, including Arnold Maeda of Santa Monica: "I have such a personal connection to this corner, and I always point out this location to any of my passengers as we drive by. I always have had a very visceral, emotional response to even thinking about my incarceration. But with discussion of this marker, my negative feelings have somehow dissipated and have been replaced with feelings of hope."
Here's an article on Amy Ioki, who was one of the local residents assembled at the intersection of Lincoln and Venice to be relocated to Manzanar when she was 16 years old:
Former Malibu resident remembers forced WWII internment
. For more information, go to the Venice Japanese American Memorial Marker website
here
and the Facebook page
here
.